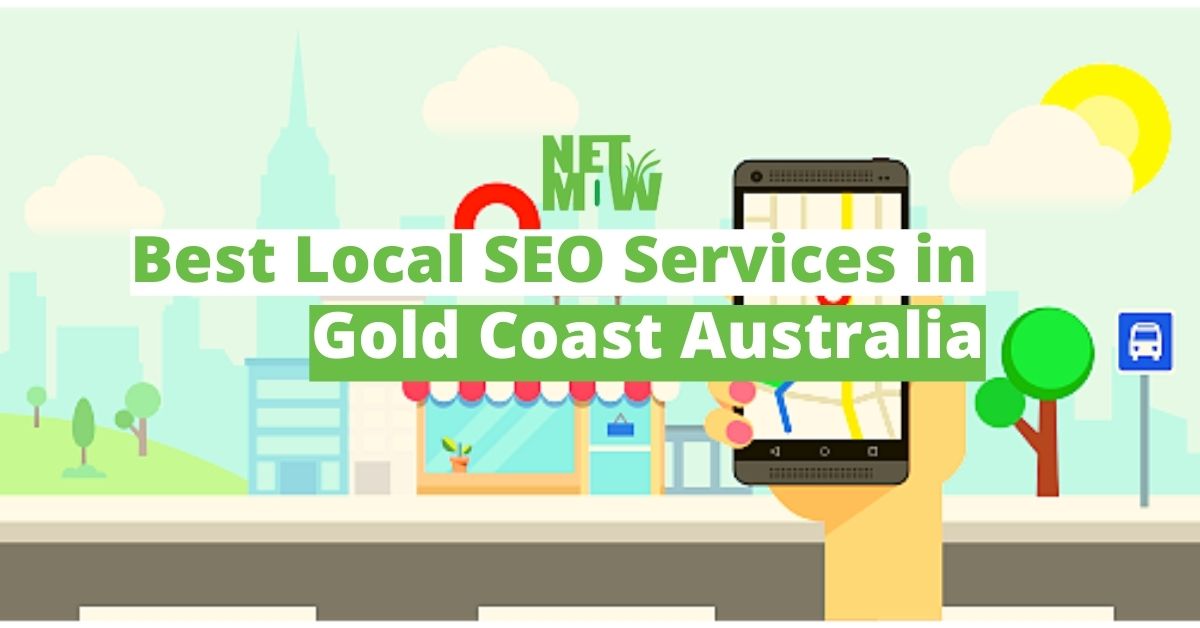 'NETMOW'  will help you navigate the digital marketing wilderness to smash your business goals. With staff based across Australia, you have access to local experts who are masters of spruiking businesses – including getting you found on search engines, starting a conversation on social media, and delivering your message where it matters most. We give you the ability to focus on your business today, while we help you catch your customers of tomorrow.
A Brief Guide About The Best Local SEO Services In Gold Coast:
We know first-hand that generating new clients is an ongoing battle.
We hear every day from clients like you who are frustrated with the challenge of finding leads and want to kick start or accelerate their business online and ramp up their presence on Google.
We know the digital marketing landscape can be confusing and you probably just want some simple answers. You may have spent a tonne of time on your social channels but still don't have decent sales. You might also have dabbled in online reviews but are finding it hard to get real traction.
Having a digital marketing strategy alongside your offline or print marketing is an important part of getting more potential customers and converting more business. As more decisions are made after online searches, getting a high result on Google is a priority for many businesses – but that's not all it is.
The idea of digital marketing is to spread your brand name out across the internet and increase trust. When more customers know your business name or your brand, they're more likely to choose you than a company they've never heard of before.


If your digital marketing strategy isn't hitting the mark, then maybe it's time to try something new. There's nothing wrong with having a go and then bringing in an expert if you need one – while you're on the tools all day, we're improving your online presence and not pulling any punches with your expectations or results.
What Is Local SEO?
Local search engine optimization is a part of search engine optimization (or SEO) that focuses on improving a local business's visibility in local search engine results. The results that appear in local search results typically answer a "near me" intended question, meaning that a searcher is searching for something "in [CITY]"—or the search engine has understood that there were geographic constraints to the search.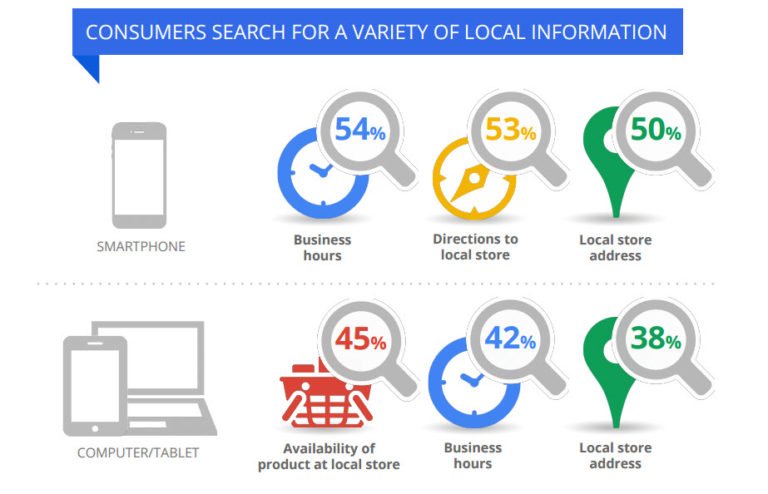 By using local search optimization strategies, businesses can improve their visibility in these local search results for terms related to their business and their products or services.
The Birth of Local SEO:
The origin of local SEO can be traced back[5] to 2003-2005 when search engines tried to provide people with results in their vicinity as well as additional information such as opening times of a store, listings in maps, etc.
Local SEO has evolved over the years to provide a targeted online marketing approach that allows local businesses to appear based on a range of local search signals, providing a distinct difference from broader organic SEO which prioritizes relevance of search over a distance of searcher.
How Does Local SEO Work? 
At a high level, Local SEO works like a "normal" Google search. When someone does a search, Google scans through its index to provide the best results for that person's query. What makes Local SEO unique is that Google uses a different set of ranking factors to rank the local search results.
Local SEO refers to the process of 'optimizing' your online presence to attract more business from relevant local searches. These searches take place on Google and other search engines. … People search for local businesses using various search engines… Google, Bing, Yelp, Apple Maps, etc.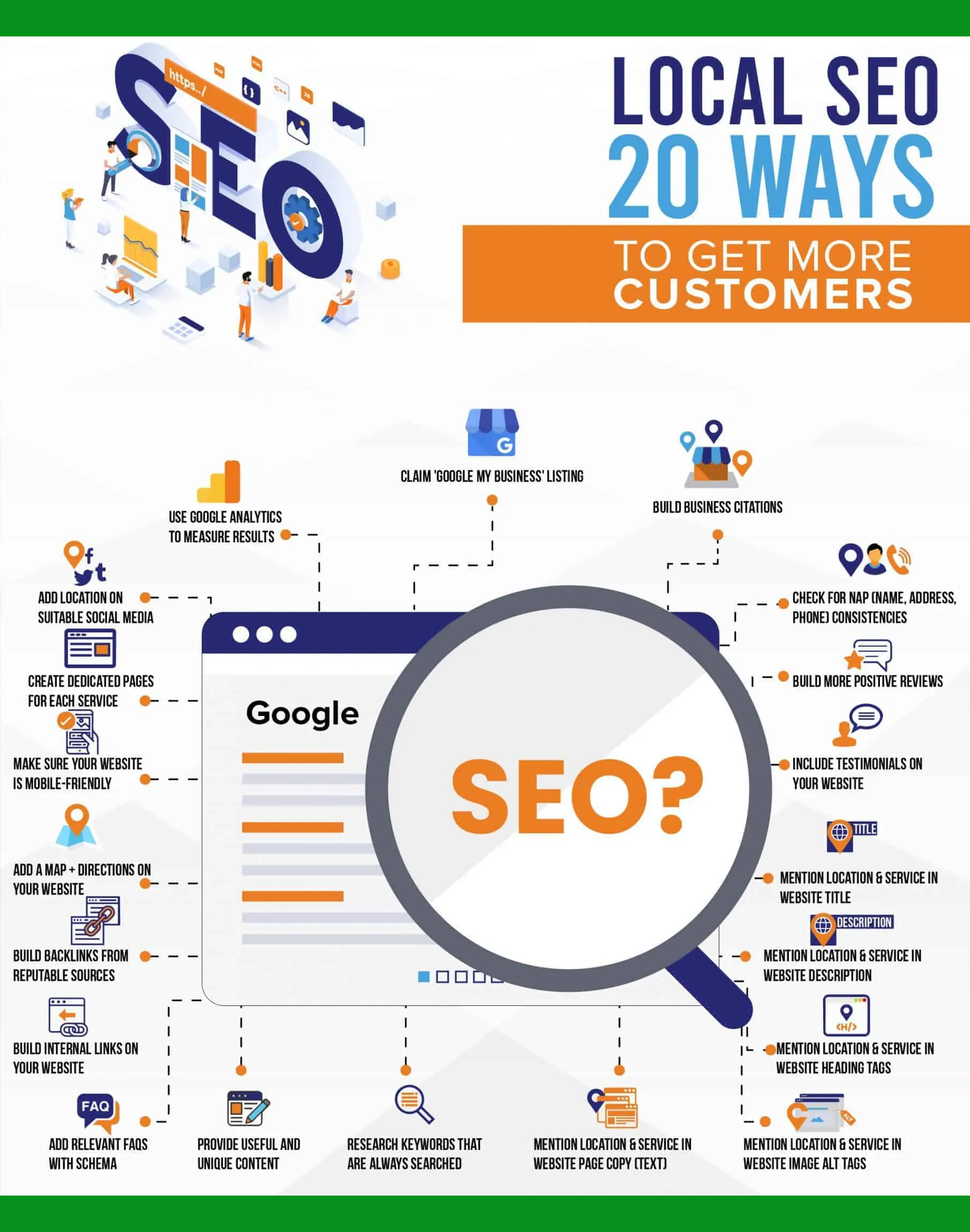 Search engine optimization (SEO) is the process of optimizing your online content so that a search engine likes to show it as a top result for searches of a certain keyword. Let me break that down even further: When it comes to SEO, there's you, the search engine, and the searcher.
The Benefits of Local SEO Optimization:
A superb web presence in your local niche market.

Higher search engine rankings.

Authority content that grabs visitors to your website.

Massive website traffic.

More calls from potential customers.

More people finding your store and coming to buy to make purchases.
The Powerful Advantages of Local SEO for Small Businesses: 
Google's algorithm changes also tend to be less brutal for local businesses. While Google Penguin and Panda devastated the SEO efforts of many larger companies, only the much smaller 'Pigeon' update had much impact on local SEO and this was far less painful. What's more, as local SEO is so much easier, you'll find it's much quicker to get back to your starting point even if you do encounter a setback. Social media can be integrated seamlessly with local SEO too.
For international companies selling products or services, SEO has become increasingly challenging. The main issue has always been the sheer amount of competition. Do you want to get to the top of page one on Google for the term 'IT support'? Sure… but then so do millions of other companies. And some of those companies include the likes of the 'Geek Squad' – with infinitely larger budgets and more clout.


How can you possibly compete with the links of these businesses? The unfortunate reality is that you probably can't. And it has only become much more complicated in recent times too. That's because Google is constantly updating the 'algorithm' (formula) that its search works on. Their objective has been to try and ensure they are partnering users with only the very best content and only the most relevant content to their query. This is important of course because it means that people will keep using Google for their search.
Why Local SEO Services Are Important for Local Business?
Nearly half of all Google queries today are local searches. Even when someone performs a typical daily search, the chances that Google shows local businesses nearby remain high.
Why is that important for small businesses? Well, from 2017 to 2019, Google reported a 900% increase in searches that involved the phrase "near me today/tonight." In an attempt to best meet the needs of its searchers, Google started providing more results for geographically-related searches based on:
Proximity

Relevance

Prominence
That means, if your business is close to where someone is conducting their search, offers services or products they may be searching for, and has optimized local business listings, then you're more likely to be found by potential customers online.
SEO Company Gold Coast:
At Digital Surfer, we are an SEO company unlike any other. We believe in helping your business not just operate but prosper in every way. Our personalized services go beyond just rankings.
We care about our clients and seeing their businesses grow. And just like you, we're hard-working Aussies who love helping our community prosper.
Based in the Gold Coast, Brisbane and Melbourne, we are growing our agency to reach more Australian businesses.
How Can Small Businesses Use Local SEO?
The actions your small business can take to boost visibility in local SERPs are simpler than you might think. Local citations are instances where your business name, address, and phone number are mentioned online—for example, a local business listing. No matter where you add local citations on the web, make sure that your information is correct and used in a consistent format every time. This helps search engines trust your data.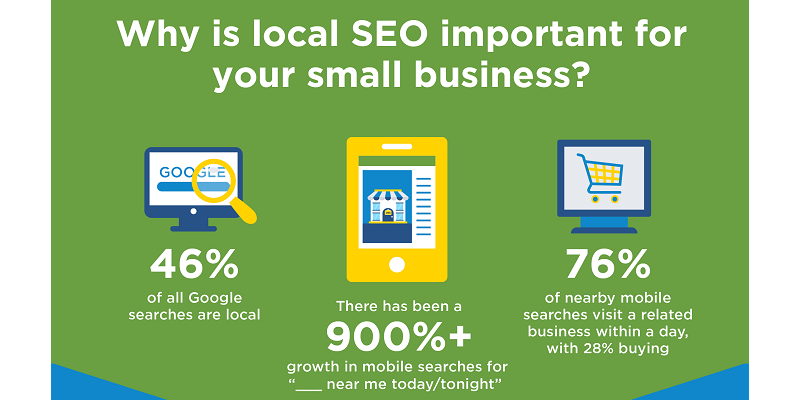 Setting up local business listings in major search engines and online business directories like Google My Business, Yelp, Yext, Bing Places, and Facebook makes it easier for search engines to verify that your business is legitimate and that your data is correct. (Again, be sure your data is accurate and consistent!)
By creating a Google My Business profile for your small business, you can feed your business information directly into Google Search and Google Maps. Not to mention, being on Google My Business allows you to monitor business reviews in Google, make quick updates to your hours, and even keep up with customers through features like Google Posts.


Taking the time to respond to reviews online shows customers that you care and can be a positive signal for local search rank. While getting more business reviews may require some effort, once you start receiving them, you should be ready to respond—regardless of whether the reviews are positive or negative.
Including local keywords in your website copy can have a big impact. Specifically, having business identifiers like "dentist in [CITY, ST]" built into your website content can help search engines better understand not just what you do, but also what local areas you serve. This means you're more likely to show up if someone in your area searches for a "dentist near me."
Frequently Asked Questions (FAQ):
How Long Does SEO Take to Work?
There is no exact formula. SEO depends on a myriad of factors which means that each case is different. A large website with a good foundation and plenty of links may see results in a matter of days, while a smaller or newly established website may have to wait a few months.
Can You Get Me to Rank #1 in Google?
We will get your business to the highest position and dramatically increase qualified leads for your business. We don't try to rank irrelevant keywords for the sake of a nice paragraph. Everything we do is based on ROI. We guarantee that we will do everything in our power to get you to the top in Google.

How Much Does SEO Cost?
Asking how much SEO costs is a lot like asking how much a holiday costs – it varies depending on where you want to go. It can be tempting to look at SEO as a cost outlay, but you need to think of it as an investment. By increasing your web traffic, you are setting your business up to receive more inquiries, more leads, and more sales.
How Do I Get Started?
Getting started is simple. Depending on our current load, we can have your SEO campaign up and running in a matter of weeks. We'll give you a realistic time from when we can start your SEO campaign and when you can expect to see the fruits of our labor.
We've helped hundreds of customers with their SEO initiatives on the Gold Coast. We are passionate about creating powerful & inventive digital strategies to help you. Services: Digital Marketing, Facebook Marketing, SEO, PPC Marketing.
Was this article helpful?