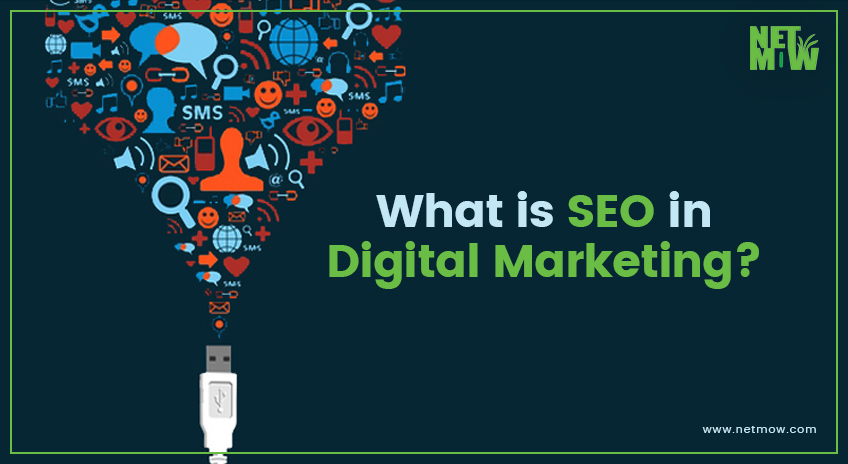 Visualize a shop or outlet without signage – no windows, no name, nothing. Buyers may drop in out of curiosity, looking for something the shop does not have. But, if the shop has a proper name with a product image or services on it, it would attract many potential buyers off the street and they will drop in the shop for exactly what they are looking for. Moreover, some of these buyers would also tell other potential buyers about their buying experience as well as about the shop and products it has.
Similarly, a website that is not optimized is like shop no. 1 that has no signage onto it, while a well optimized website is like the second shop that has proper branding. SEO makes a website easy to crawl, easy to find as well as easy to categorize. It is like helping potential clients or customers find out the business online easily among thousands of other businesses. Hence, SEO is a vital part of any digital marketing strategy. It is, in essence, concerned with a move that drives potential customers to the business through online platforms. For doing so, one must make sure the site ranks well in the SERP.
For any business, marketing, advertising and branding are of utmost need. When a business establishes an online presence, the advertising works best to attract a great deal of web traffic. SEO, in this regard, provides a good opportunity for free advertising.
A well optimized website is expected to rank high in the SERP. Searchers normally review and scan the first two pages of SERP, therefore, it is necessary for the business website to rank on the first page of SERP. Too many people use search engines to find information about local businesses and most of them check online reviews before buying any product.
Forget about how you think about SEO and think of it as an area that is constantly evolving. Patterns occur quickly as user behavior and search engine resources evolve over time.
Assuming you can skip SEO, you can prevent "wings" from accessing business possibilities.


The online marketing industry is evolving and your industry is mature. As for SEO, you can not "set and forget". Monitoring and controlling how everything works can always be one step ahead of the competition.
SEO and Digital Marketing
It appears that there is not much difference between the digital marketing and SEO approaches as both possess similar skills and carry out similar functions. Various titles have resorted only for marketing needs. To comprehend this better, there is a need to pay a detailed look at these concepts.
The digital marketers focus on the total online existence of a business that goes beyond SEO, while the SEO experts are busy bringing organic hits. An SEO person usually looks after other areas of digital marketing. The entire SEO digital marketing package may be named as an SEO package as most customers essentially understand this more easily.
Creating an SEO Strategy
Before setting an SEO strategy, below are some points to consider:
Mobile Friendly Approaches:
A good website should be able to fit into a mobile device and give equal satisfaction to the users as they get when accessing the site on their personal computers. Too many users nowadays use mobile phones for browsing and searching on the internet. So, ensure the website is mobile friendly because if it's not, the probability of bounce back rates is high.
Target Market:
Use Google Analytics to help investigate the geographic conditions and demographics of customers as they are quite important to find out where and how to get the customers. Fine tuning on these things will help the business success going forward.
Search Engines:
The website should not only focus to rank well in Google but in all other search engines like MSN, Yahoo, DuckDuckGo and AOL. All these search engines have different algorithms that are must understand to make the site compatible for them as your users may come from any route.
User-friendly website and quality content:
A user-friendly website, SEO keywords, clear navigation, optimized title tags, meta description, meta tags and balanced keyword density in the relevant, and high quality, interesting content should be the aim. Each page of the site should be built around the themes of the target keyword, with unique and qualitative content. Keyword stuffing is a big no in the content. There should be no keyword stuffing as well.


Keywords:
Spend time on keyword research. Have a healthy mix of head terms and long-tail keywords as such terms define the behavior of users. Also, try to frame a long tail quality in the key phrases of the web content.
Social media and relevant linking:
Attention should be given to building relevant and quality links that can drive good traffic to the website. Moreover, setting up to date social media platforms is also necessary as a good number of traffics is generated through a business social presence.
The Benefits of SEO Marketing
The main advantages of SEO:
High goals. Visitors are more likely to buy because they are looking for specific products or services. You are a visitor

Low-cost potential visitors. There are no media costs to show or click on ads. Costs only occur in the optimization process where an agency is paid to increase the ranking of search results.

Dynamic. Search engine robots crawl daily on popular website sites, so the new content is relatively fast (less deep links) on the most common pages of the site.
SEO disadvantages:
SEOs and affordability are not as simple as disadvantages.
It is impossible to predict. Compared to other media, SEOs are not really reliable in terms of return on investment. It is difficult to predict the outcome of a particular investment.

Time to implement results. SEO results can take months, especially for new sites

Complexity and dynamic personality. Because search engines use hundreds of factors, but relative weights are not published, there is no direct correlation between marketing activity and results. "It's closer to art than science." Order items change over time.

Continuous investment. Investments are needed to develop new content and create new relationships.

Awareness-raising is not enough compared to other media channels. Researchers already know the brand or service they find. However, lesser-known brands offer the opportunity to gain weight and raise awareness based on CTR.
Conclusion
One thing that should not be forgotten is that there is no constant SEO system that will stay the same forever. As online customer behavior keeps evolving, search engines also have developed various policies. Some businesses only think about the ranking with search engines without even thinking about their users. What they don't know is that the search engine spiders after indexing the content will take the relevance and quality of content into account.


Thus, the aim should be to think about the users first, their satisfaction when using the site and how they navigate it. This will affect the popularity of the site or the time users spend on each page. Having incorporated all SEO techniques, a digital marketing strategy with good SEO will definitely succeed in getting noticed by the searchers. Ready to start? Contact us at +61 477 937 937 for further information.
You'll be surprised at how quickly you can implement these digital marketing tactics if you focus on them one at a time. Then, when everything is up and running, you can focus on optimizing and improving your processes for maximum growth.
Digital Marketing Agency Gold Coast: A Step-by-Step Guide Made Simple
Was this article helpful?