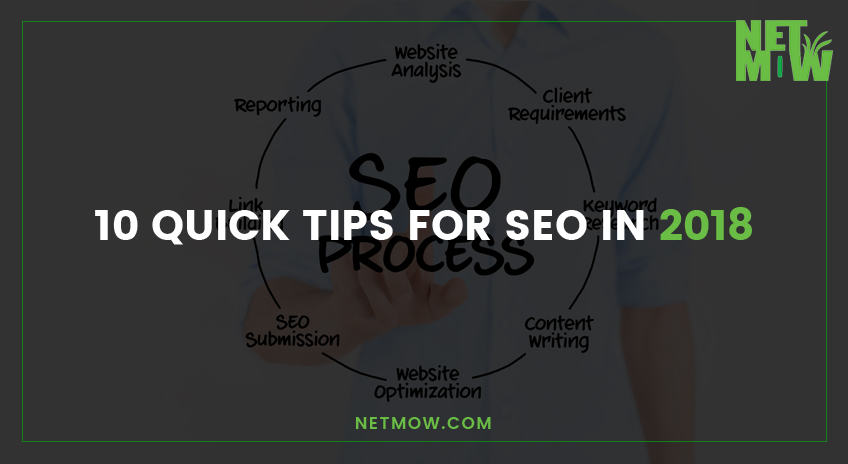 SEO is all about keeping up with current trends, what the search engines are doing and what is getting the desired results. SEO should always be a white hat to avoid Google penalties, so avoid anything that is obviously black hat, or even in the grey zone.
In this post, we'll briefly sum up just a few of the positive things you can do for SEO and website traffic in 2018.
Write Blog Content
A static business website that never adds new and valuable content can be viewed as stagnant in the eyes of Google and overall rankings could suffer as a result. The very best way to keep your website looking active and fresh is to incorporate a blogroll that is added regularly.
Apart from looking good to Google, blogs will build your authority, cultivate trust in your brand and create many more entry points to your business website.
Video Content
YouTube is considered the world's 2nd biggest search engine behind Goliath Google, and it's tipped that video content will surpass content that is text-based when it comes to website traffic.


If you haven't started making videos or created a YouTube channel, now is the time to get started. Videos should become an integral part of every business's marketing and content mix, as traffic from YouTube and other video platforms is only going to increase exponentially over the next few years.
Cultivate Natural Linked and Linkless Backlinks
Linked and now linkless backlinks still play a major role in getting your website and content ranked. Linkless mentions of your brand or business are the next big thing and will harness as much SEO juice as actual backlinks moving forward.
Positive mentions of your company or brand are now used as trust signals by search engines, so actual links to your website and its content are now not always necessary to gain favor.
Speed Is King
Slow-loading websites are not only SEO killers, you will also lose loads of visitors if your website is too slow to load. People are becoming more and more impatient online, so the faster your website performs on both desktop and mobile environments, the better.
There are many tweaks that can be performed and improvements made that will speed up a sluggish site, and getting up to speed should be a top priority in 2018.
Be Prepared for Google's Mobile-First Index
Google won't specify exactly when it will be rolling out its Mobile-First index, but many experts assume it will happen sometime in 2018.
Mobile-First is all about favoring websites that are the most mobile-friendly by ranking them at the top of search results, while all non-friendly websites are relegated to the search engine basement.
Websites either need to have a mobile-specific version or be responsive so images and content are not affected when viewed on smaller screens. These days more people are using mobile devices across the globe to access the web than people who use actual computers to do so.
The Right Keywords Will Always Be Vital
Keywords will always be one of the biggest and most important factors when it comes to ranking content in the SERPs. At the end of the day, it's the keywords that let Google know what your content is about and whether it matches a particular search query.


There has always been a focus on using the main keyword or two to base the content around, but LSI keywords and similar variations of a keyword should never be overlooked. These should be sprinkled naturally throughout the content to give it every chance of ranking highly for a variety of related search queries.
Gone are the days of keyword stuffing. Keywords have to be used naturally, be relevant and make sense.
Improve Your Click Through Rate (CTR)
Page/post titles and the meta description are what's shown in the results that Google displays a search query. Ranking highly in search is only half the battle, as it means nothing if no one is inspired to click through to your actual content. A low CTR will also indicate to Google that your page isn't relevant enough and will drop its rank.
Don't just make your page title a keyword phrase and that's all. Use the keyword, but add more to the title to entice people to click through. The same goes for the snippet in the description; use the keyword, but write it in such a way that people will be begging to learn more.
Add a sense of urgency like "read this now" or "read this first". Having a question in the title or as the first line of the description is also effective.
Don't Neglect the Power of Visual Marketing
We've already mentioned the immense power and potential of video, but don't forget the power of other forms of visual marketing and visual content.
A blog post without images looks just plain lifeless and boring. People are visual by nature, so it only makes sense to have relevant images in our written content, whether it be website posts or social media postings.
Infographics are a great visual to illustrate a point in a fun way without the reader having to digest large chunks of text to gain an understanding.
Another point to consider is that Google ranks images, so if you use your chosen keyword in the alt tag for your featured image (or even all images in your content), there is an added chance that your content will be discovered through an image search as well.
Encourage Site Comments
Having comments on your site can achieve a number of positive results.
For starters, Google likes to see people engaging with your website content. It tells the search engine that your website is both active and interactive and that people enjoy your content enough to leave a comment.
Comments also add to the overall length of your content, so a 1000 word article might double in actual size with enough comments and replies.


Comments are also a way to develop relationships with your visitors, which in turn can lead to visitors becoming actual paying and loyal customers.
Seek Help From SEO Specialists
SEO involves many facets and it's always wise to keep your finger on the pulse of what's happening in the industry and be willing to adapt and evolve. SEO Specialists must be good problem solvers and decision-makers. If this is too much for your business to handle, then outsource your SEO to a trusted firm that specializes in quality SEO practices and can elevate you above your competitors.
Was this article helpful?