We focus on the metrics that matter most
We have a decade of experience with SEO IN BRISBANE
Through our experience, we can help you in establishing a good online market we have experts in SEO, Web designing & development, branding and designing, Email hosting, Web hosting, and digital marketing.





Why Invest In SEO?
Having a website is good, but what if you are not getting any traffic on it. SEO is a strategy that can help in maintaining and increasing your website's traffic. NETMOW can bring you the best results by getting out of the borders of current SEO strategies.

Brand Exposure
We are living in a world of technology. A website is found one of the best ways for brand awareness. But the algorithms of search engines are changing frequently. We should proceed wisely when investing in a website.

Get More Prospects
More traffic will be fetched, effective landing page optimization will be provided. Packages are within your budget. Arrange a free consultation meeting and your website's analysis and an action plan. Meet with our marketing experts to get your marketing strategy.

Increase Revenue
The core purpose of SEO is that when a user reaches your site, he should take action according to his wish. Having more traffic on your site is good but our goal is to generate revenue. For this, the site should be monitored regularly.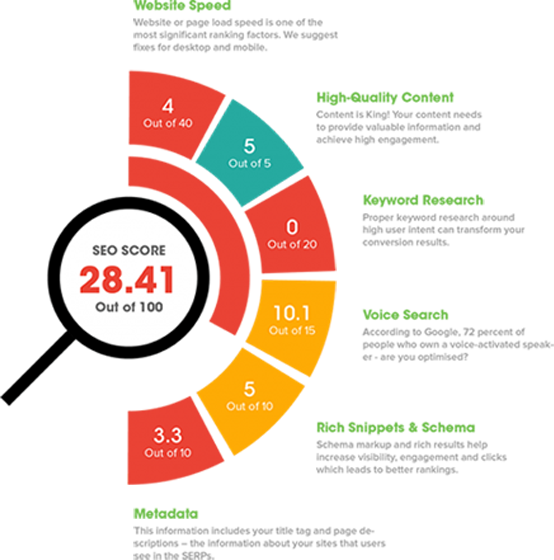 Website Speed
The user cannot wait too long for a site to load. This problem must be fixed. We can make your site faster for PCs and mobile.
High-Quality Content
Words are like magic; they can change the ideology of a person. This is the most important factor of a website. After the look at the site, content is the one that attracts the audience.
Keyword Research
Keywords could change the ranking of your site. If proper keywords are used then it will be ranked higher in a search engine.
Voice Search
Most people use voice search these days. So, your keywords should not be very long. By this, the search engine will easily reach your site.
Rich Snippets & Schema
In this, the content is marked up in such a way that search engines get to them in no time. Which will lead to higher ranking and more traffic.
Metadata
The metadata contains data about your site, its title tag, and its description.
3.3 out of 10
5 out of 5
4 out of 40
10.1 out of 15
5 out of 10
0 out of 20
SEO score
28.41
Out of 100
Free SEO Audit
A free audit will not hurt your budget. During the audit, you will know about the deficiencies of your site, and the solution to those problems. You will also have a chance to look at the expertise and professionalism of our staff. So, just come and find solutions to your SEO problems.
Our Expert SEO Services
We have a well-managed testing process. We do our best, to keep you ahead of the rest. We will get you maximum search engines traffic so you can avail the best business opportunities.

TECHNICAL SEO
Technical SEO improves the elements of a website. By improving the technical aspects like checking XML sitemap or HTTPS status codes, it'll attract the eyes of search engines. Just imagine how you reached out to us.

KEYWORD RESEARCH
Your site and the competitor's site are searched thoroughly to fetch the perfect keywords. A word that is typed in a search engine is called a keyword like "best SEO company". Different keywords are used within a single site to attract more traffic.

BACKLINK DEVELOPMENT
When we share the link of your site, we create a backlink. It can be created on different platforms like social media, commenting on blog posts, or creating a guest post for a blog.

DIRECTORY LISTING
Directory listing is used to store NAP data it is just like an online phone book. These are ranked higher than any other pages on your site. Even if you haven't invested in an SEO strategy, through proper placement of these directories your site will be ranked higher.

ON-PAGE SEO
In On-Page SEO the HTML and the content are optimized and proper keywords are added. By this, search engines can understand your site and it is easily compared with the searches. We'll give you perfect On-Page SEO to give the best results.

TECHNICAL AUDITS
After On-Page SEO there is a chance for some technical issues to be left, that may restrict search engines to crawl to your site. To fix these problems the site goes through a technical audit. This report highlights the technical issues with their solutions.
OUR SEO PROCESS
Let's have a look at our SEO process. These are the steps by which we can provide high traffic.
Keyword Research
SEO is incomplete without keywords. Each word typed in a search engine is a keyword. We have to place similar words on our site to rank our site higher. We'll find the most relevant keywords for your site.
Competition Analysis and Website Audit
After that, we look at the performance of each page and how they are performing on each search engine. And then we improve their optimization to be top-ranked.
On-Page Optimization or Site Optimization
In On-page optimization, we optimize HTML and web content. Perfect keywords and meta tags are used. H1 tags also have their importance as they help search engines to get the idea of your site.
Link Building and off-page optimization
Off-page SEO happens outside the website. We leave the links to our website on other sites, comment on blogs, creating a guest post for a blog or social media. This is called creating backlinks. By this, we can fetch more audience.
Monitor ranking and keep updating content
In this digital era, everything keeps on updating. So, the search engines are also updated frequently. We also keep an eye on these updates to maintain the top ranking.
Let's Grow Your Business
Click on the link below to get started with us. Let us take your online business to the next level.
What Makes NETMOW Different
To Other Brisbane SEO Companies?
NETMOW is a company that keeps on evolving. We adapt the latest methods and we keep an eye on each update in the search engine's algorithm. Many other SEO experts still use old-school methods which are not just antiquated but also dangerous.
Besides being up to date, we are also active participants in SEO research. Whenever our findings are published it is adapted by the industry. You can know more by reading the article from a search engine journal.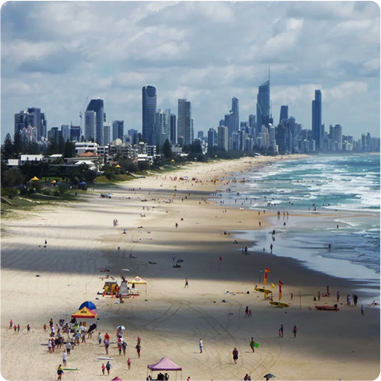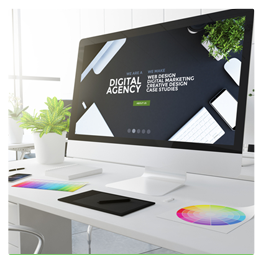 AND WE KNOW
HOW TO DO BRISBANE SEO
Many companies are offering BRISBANE SEO. They all promise to keep your site on the first page of the search engine. But we have the best strategies to achieve this ranking. Even on the updates of the algorithm, we can keep constant to this ranking. By using the best tools and newest strategies we'll get your site in the top rankings of a search engine.
Our experts are always looking to adopt new strategies to give you quality results. If they don't find new trends, they create them. Hence, we are very up to date with the strategies appearing in the industry.
PLANS & PRICING
We have a variety of plans and prices for you. You can get our services monthly or yearly basis. You can also choose the one-time payment plan to get a lifetime membership.
SEARCH ENGINE OPTIMIZATION & FAQs
There are many questions asked about SEO, we have tried to answer most of them. If you find these questions relevant to those which are popping in your mind then have a look at them.
What is SEO and how does it work?
Dan: In a nutshell, SEO is making your website as appealing to Google and other search engines, as they aim to send their users to the best possible websites. Over the years people have tried to make SEO sound more complicated, and whilst there is an understanding needed at quite a technical level to delve into algorithms and other things, if you built your website with the question 'is this the best possible website I can build, and would users have a good experience on the site?' you won't go far wrong, and you'll rank well in organic listings.
What is on-page optimisation in SEO?
On-page optimization ensures that various signals on the pages of a website send the appropriate signals to Google that help improve rankings, whether this is great content improved page titles concerning the topic written about.
Do landing pages help with SEO?
They can be, but only when optimized correctly. The potential issue with landing pages is that they tend to be very similar, and very thin on content, so not providing the greatest experience in the sense of a query search. It can be tricky to get landing pages right for SEO, but when they are right, they're no less useful than a normal page on the website.
Is SEO or social media a more important marketing priority?
Digital marketing is working together more than ever before and having a well-rounded strategy including different channels – including SEO and social media – is the key to creating the greatest amount of online visibility. Whilst some industries will suit one digital marketing discipline or the other more, it largely comes down to where your audience is looking for your services. Paid options when applying social media marketing also mean that if you're looking for a quick short-term return this could be the better option – again, depending on your product or service.
What is image optimisation in SEO?
Image optimization is a tale of two halves, the first being focused on ensuring the image is compressed as much as possible without loss of quality. This allows the image file size to be decreased, and therefore load quickly. You should also make sure that you're serving images that are scaled correctly.
The second half is ensuring that images have appropriate file names and alt text. For example, an image with a file name of 'IMAGE1.PNG' and an alt text of 'IMAGE1' isn't useful for search engines, or people using accessibility software. The filename and alt text should accurately describe the contents of the image – for example, 'red-car.png' and 'red car on a road'.
What should I do to get traffic on my site?
Employ the best specialist SEO agency in Manchester (hint!) and save yourself the headache! If you did want to do this yourself, the best way to get traffic to your site is to ensure that you're adding value to your site. Look at it like this, if you were a user looking to buy a product/service or gather information about a specific topic, would you be happy with your experience on your own site? If not, then make the necessary changes. If you are, Google will have no hesitation in sending your site traffic. Obviously, obtaining backlinks and other factors contribute to the levels of traffic your site will receive, but as a general rule of thumb, this is a good one.
Is HTTPS better for SEO?
Simply, yes. Having your site on a secure server (which is what HTTPS signifies) is a sign to Google that users on the site can trust you. Most websites can obtain a free SSL certificate, and it's quite easy to implement. This would be one of my first port-of-call when looking at a new site from an SEO perspective.
How does Google's mobile-first index change SEO?
Google used to crawl the desktop versions of websites, and that ranks them on mobile device searches, whereas now they've switched it around and they crawl the mobile version and rank the desktop from what they find. The main way it has changed SEO is that now you need to provide a great experience to mobile users, especially when it comes to speed, design, and user engagement.
OUR SEO STRATEGY
You read our process for SEO, now take a look at the strategy used by us. The following strategy helps us in keeping your site on the top.
An overview of our technical SEO strategy
The XML is checked frequently, the markup is corrected according to the algorithm of the search engine.
A taxonomy and navigation structure is created, so the position within the site is understood by google bots and humans.
We take care of the problems that appear in hosting a domain. That can be seed, CDN suggestions, or compression technologies.
The website is made faster to take more load which includes time to first byte (TTFB), also the number of requests internal or external is kept in record.
On-Page SEO techniques that we employ
Well-optimized metadata is created.
Best ontology is applied with the proper placement of keywords.
Unnecessary HTML code is removed which includes inline styling and unused class names.
Useful internal links are placed correctly within the body of a site.
Off-page SEO work that we do and recommend
Check the sitemap keep it up to date. Correct the HTML, keep an eye on its indexing and reading by search console.
Using the social media platform is a great option.
Creating a guest post on a blog.
We can also simply comment on blogs.
JUST 3 STEPS TO
HIGHER RANKINGS,MORE TRAFFIC, & MORE LEADS
If you liked our strategy, plans and tactics than don't wait just schedule a phone call. Speak with our experts and get the best guidance. We'll provide a lead against your competitors in online business.

Schedule a Call
Just schedule a phone call with us and speak with our marketing experts to get the best plan for you.

Get Your Plan
We'll provide you with a road map to digital success according to your location. We are focused on giving you the best results.

Develop your Marketing Strategy
Once you start working with us, our development marketing team will create new tactics and apply them to your business.