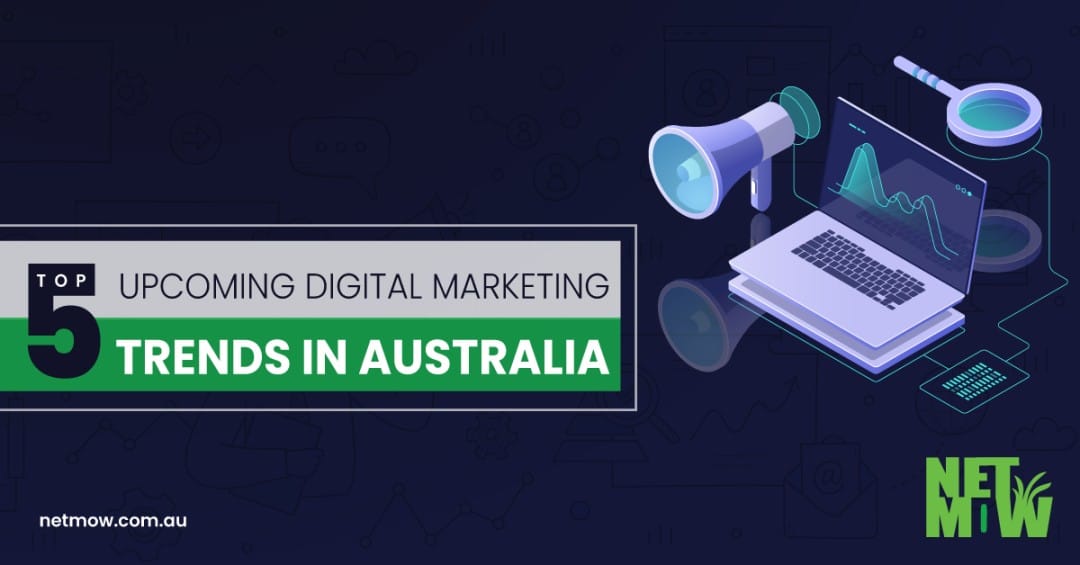 If you're eager to ramp up your online marketing strategies in the long run? It's probably time to prepare for the top technological trends in Digital marketing. In the new realm of WEB 3.0, Blockchain, Digital Currency, and Metaverses, what's next for Digital marketing in digital trends on demand of both forward-thinking companies and consumers?
Instead of taking lessons from the ground up, We've compiled our opinion of the top emerging technological advancements in Digital Marketing that are likely to determine the future. Through deep dives into market trends, digital marketers of NETMOW are regularly reviewing and researching the most effective practices in the digital marketing landscape to help their customers. 
Future of Digital Marketing
Digital Marketing is the process of promoting or advertising products, brands, or companies to connect with potential customers using digital media platforms. This includes not only Social Media, email, and web-based advertising but also text, meaningful content, and Infographic and multimedia messages as a part of marketing. 
With the increasing number of internet users, Digital strategies of marketing are becoming more popular and flourishing day by day. Technologies fueled by 5G, AI, WEB 3.0, and edge cloud processing enable organizations to seamlessly crossover between virtual and physical worlds.
Many advanced technologies and strategies are coming shortly to make digital marketing more demandable and famous for its advantages. As a result, the number of internet users will increase daily, and the demand for Digital Marketing in the marketing sector will be on top.
Upcoming Digital Marketing Trends
If you're seeking an edge to outdo your competition in the digital marketing world, you must prepare for the upcoming trends and try to implement them early. It will keep you ahead of your competitors and help you to get more clients.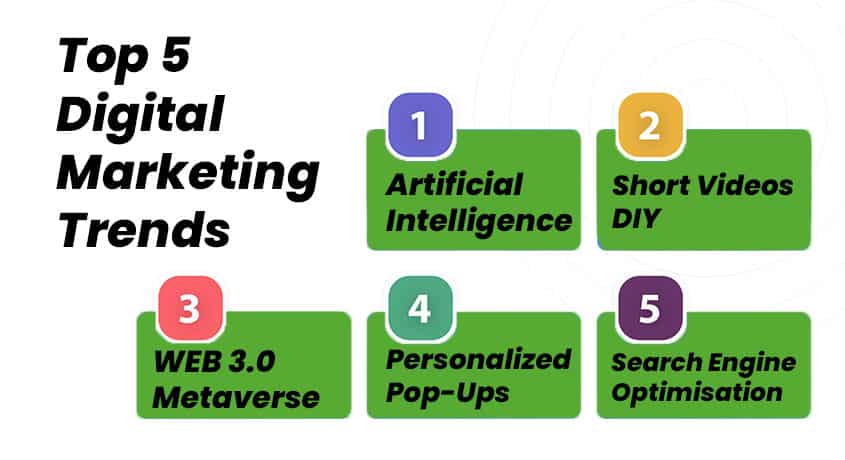 In this article, we've chosen and discussed the top five growing popular trends in the digital marketing and online world. These trends have good potential to succeed in the long run.
Artificial Intelligence in Digital Marketing
AI Chatbots or Conversational AI is one of the most trending tools used in digital marketing. Many online users now expect live, real-time chats from live support staff or, at minimum, a sophisticated AI to anticipate solutions to their needs. To give your customers an improved experience and uncomplicated Digital Marketing Support and sales funnel, think about implementing artificial intelligence technology to talk to your customers and provide instant solutions when you and your team are not online.
DIY and Short Videos
Shorts and Short videos have been more popular in recent days. Short videos like YouTube Shorts, TikTok, and Facebook watch are the most watched and most engaging for sending a message or promoting a brand. 
Just look at our tiny Marketing School YouTube channel. We know it's going to grow fast because we're just editing our content for short form.

Short form = Shorts, Reels, TikToks

Bonus: YT Shorts viewers will now see your longform videos! pic.twitter.com/i05M5yGQjt

— ericosiu.eth (@ericosiu) October 5, 2022

The main thing about these videos is that they are short, not more than one or two minutes long. So everyone can manage one or two minutes to watch a short video, and marketing experts take this advantage to send a message.
Web3 and Metaverse
WEB 3.0 and Metaverse are the most hyped topics in 2022. The trend is too high, and the increasing popularity of metaverses, blockchain, and crypto could be an excellent opportunity for digital marketers. Metaverse and eye-catching animation with virtual reality could be an effective way of branding and increasing brand value.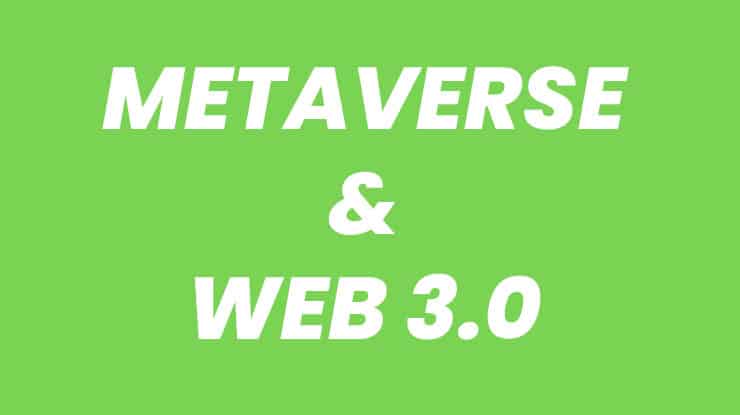 While this might not be the ideal option for all markets, the reality is that some online audiences are shifting to these new digital options and are gratified by their favorite brands that are testing the latest technologies on the internet. Since some platforms are in development and require significant internal resources for your business to be operational, It is recommended. Tech-savvy audiences are always eager to test and use the latest technology.
Personalized Pop-Ups
Pop-Ups could be annoying to the users. But If we can show personalized pop-ups, which are designed based on personal interest, it could be the best way to grab the attention of a potential audience. To make personalized pop-ups, we must research content vs. interest, location, event, trends, and user demands. Then, you can set different pop-ups on different pages depending on consumer behavior.
Search Engine Optimisation
Old is Gold. Search Engine Optimisation is the first and most used Digital Marketing Technique. SEO gives organic and the most authentic traffic to your website. A well-planned and executed SEO strategy will yield significant returns for any business, regardless of internal capacity, budget and size. With the possibility of analyzing your actions using real-time information, the latest marketing analytics platforms can assist you in defining your marketing strategy in the ROI of search engines over time. SEO is a long-term investment that helps you win in the long run.
How to Plan for the Future of Digital Marketing
Like many top marketing agencies, we look forward to new tools, platforms, and solutions. However, after proper research and market analysis, we found these above topics and trends could be most effective in the near future. We must be ready for these trends and make strategies and content according to these trends.
Suppose you're looking to learn more about these trends and would like to know whether they're suitable for your business and audience. In that case, We suggest exploring each as a brand new topic. We then examine it in relation to your goals in marketing budget, goals, and resources before diving fully into the upcoming trends.
How NETMOW can help you with the best Digital Marketing Service on Gold Coast
Digital Marketing has become more popular among entrepreneurs and business owners due to the increasing number of internet users. NETMOW is one of the Best Digital Marketing agencies in Gold Coast, Australia. NETMOW always provides the best digital marketing solutions and SEO services on Gold Coast.
We invite you to review our Tested Track Record to understand our services better. We provide continuous assistance and resolve any issues in a short period. We provide complete reports and ensure that we are transparent to our customers. Feel free to Contact Us to arrange 20 minutes of a free consultation, or you can Visit Us.
Frequently Asked Questions
Was this article helpful?